ZeroDeposit Program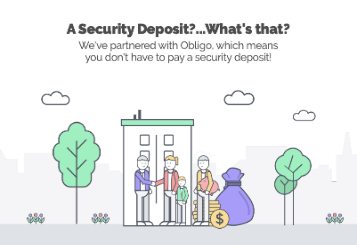 Deposit-Free Technology Is Finally Here: When renting from Del Val Realty & Property Management you do not have to tie up your money in a traditional security deposit. The days of your security deposit money being locked away and collecting dust, are over!
One of the many benefits of our Resident Benefits Program is our ZeroDeposit Program. This program works with our partner at Obligo.com. You will receive an application from Obligo.com and provide your bank account information and credit card pre-authorization. Obligo.com will securely test your bank account and available credit to see if you qualify for our ZeroDeposit Program. This pre-authorization will be capped at your security deposit amount.
If you qualify, and accept, Obligo.com's offer there is a small monthly fee with the first year prepaid prior to move in. After the first year, the fee will be paid monthly. But even if you do not qualify, or want to pay a traditional cash security deposit, you can do so using Obligo's online process.
You are Still Accountable: If you damage your property or have any unpaid charges on your account, Del Val will make a charge against your pre-authorization. Obligo.com allows residents to repay their balance in monthly installments. Additionally, if you feel any of the charges against your account are unreasonable you may dispute them - just like you would with a traditional cash security deposit.
Deposit-Free Living Starts Here: Once you have been approved for one of our homes or apartments you will receive a secure link from Obligo.com to sign up for our ZeroDeposit Program.