After receiving many questions relating to paying fees online, accessing HOA documents and forms, and how to contact the manager of the community, I have decided to put together this brief, yet detailed, tutorial on how to navigate the resident portal. Just about everything relating to your community and account can be done online, so let's get started.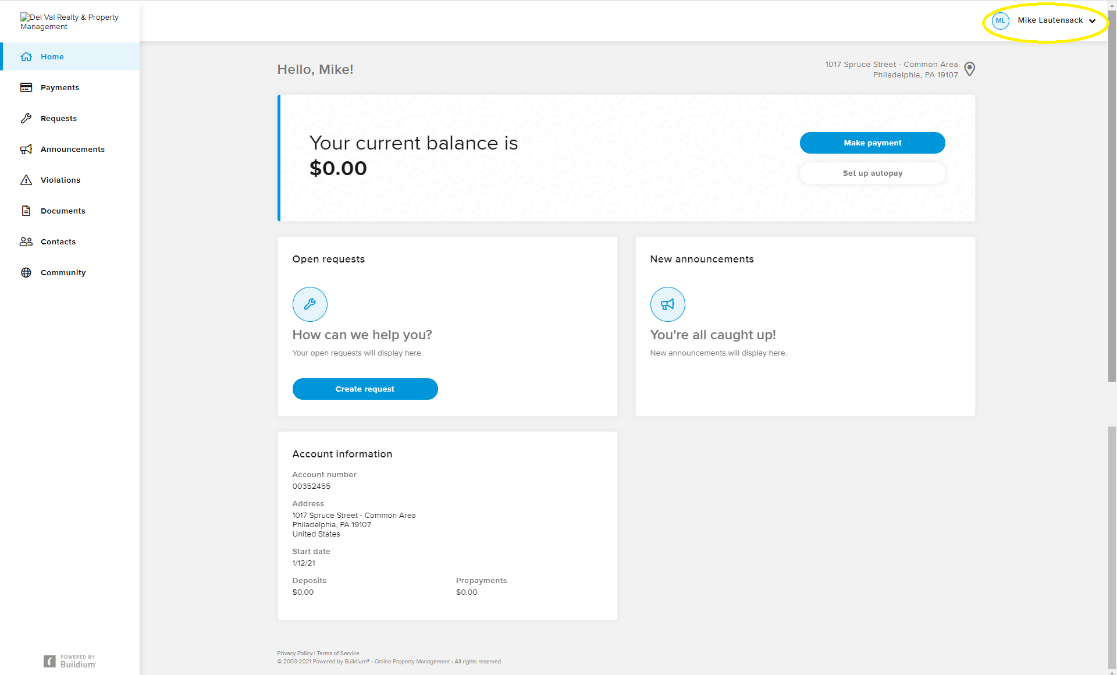 On the top right of the page, you should see your name or the name on the account. This is also a menu which gives you access to your account and the help center. It is also where you sign out of your account.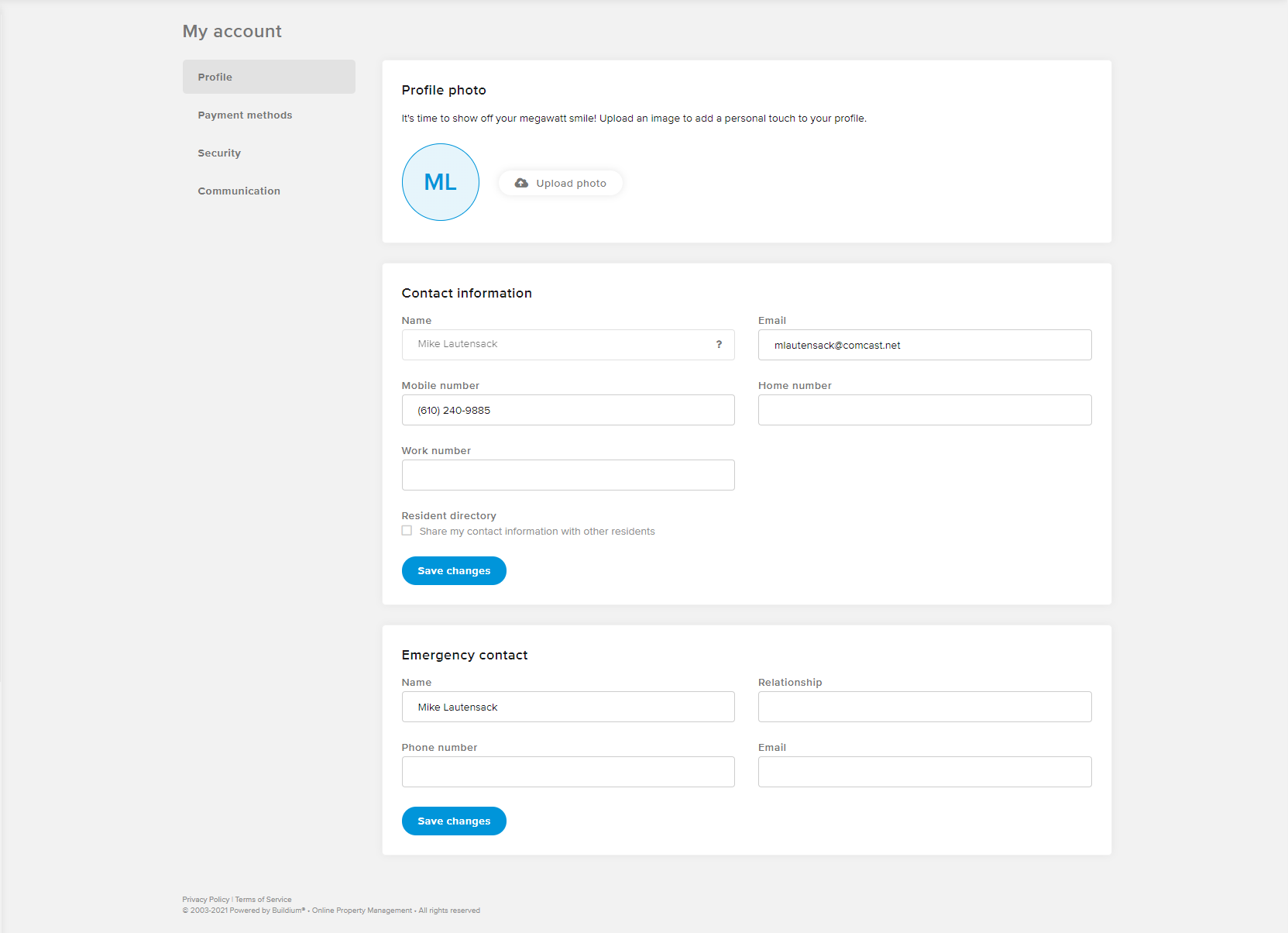 If you click on "My Account" it takes you to the profile page which is one of 4 options on the immediate left of the page.
Profile

This is where you can edit your contact information, emergency contact and, if you choose, you can upload a photo.

Payment methods

You can add your payment methods you want to use to pay your fees online here.

Security

You should be able to change your password here. This feature doesn't always work properly, so you're better off calling Del Val to have us initiate this for you.

Communication

Here you can change your communication preferences, i.e., paperless, text messages, etc…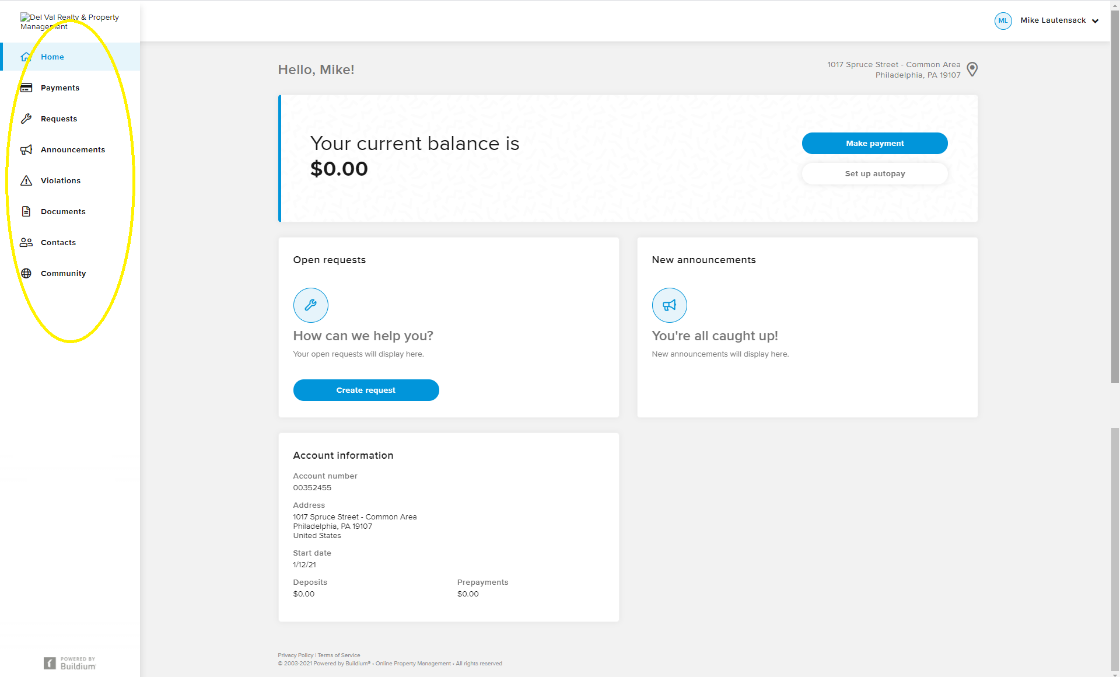 This is the page you are directed to when you login. You should see you balance summary, open requests, new announcements, and account information summary.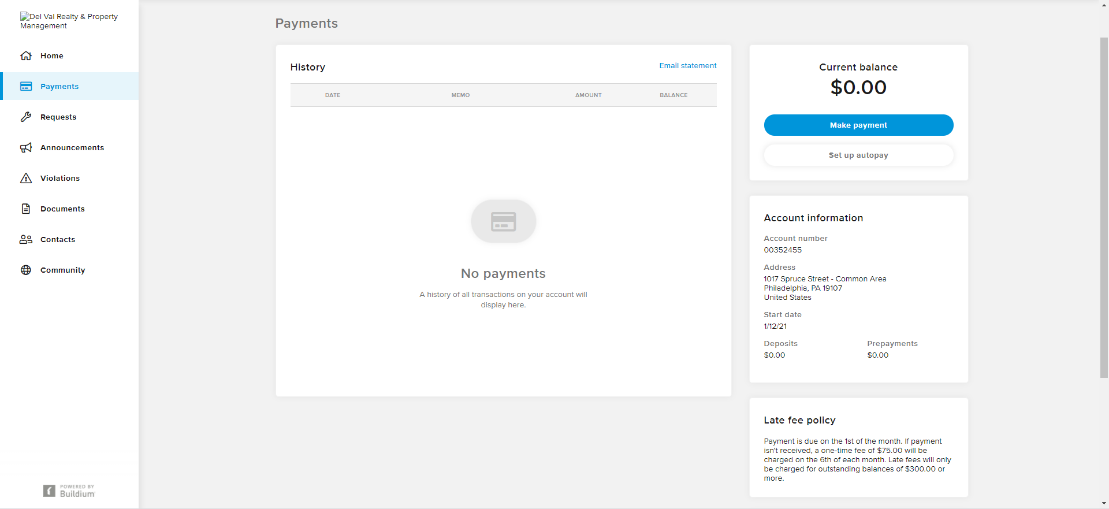 You can make a one-time payment or setup auto pay here. It also gives you access to your account ledger. You can email your account ledger to whoever needs a copy of it. This page also displays the late fee policy of your community, and you can see your account information summary here as well.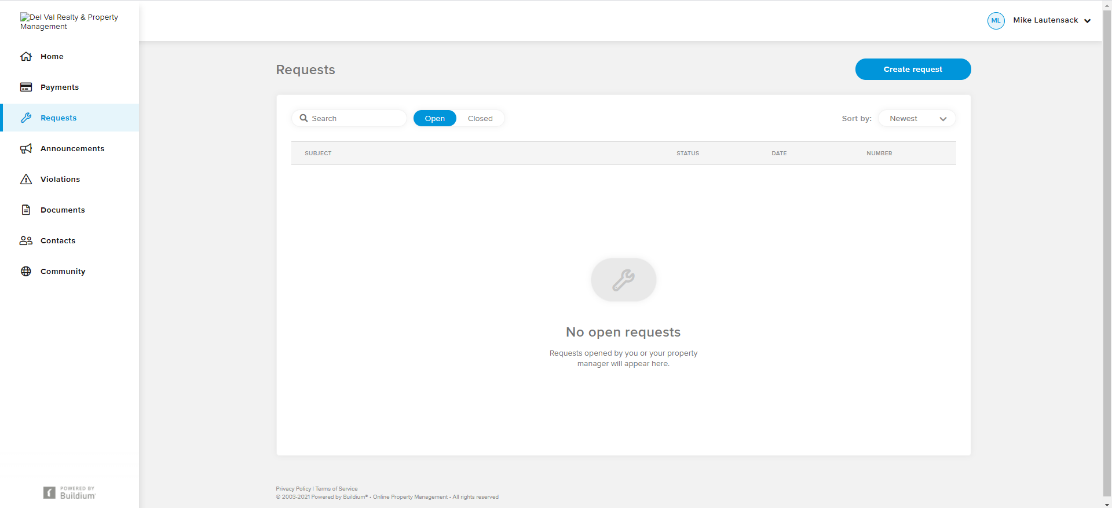 Any requests created by you, or your property manager will be listed here. This is also where you can submit a request.
Announcements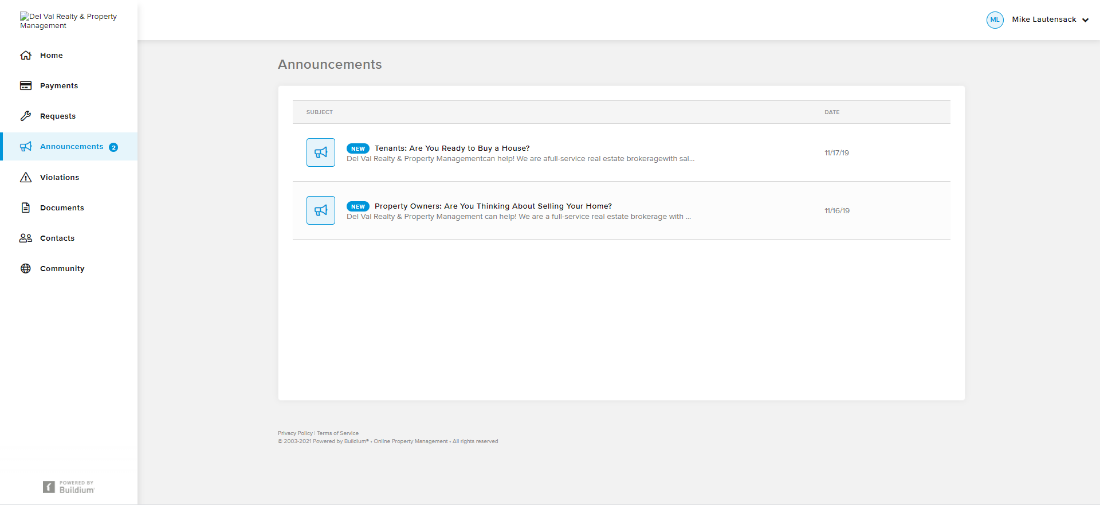 Occasionally there will be announcements posted here about snow removal, trash pickup changes, any reminders, etc…
Violations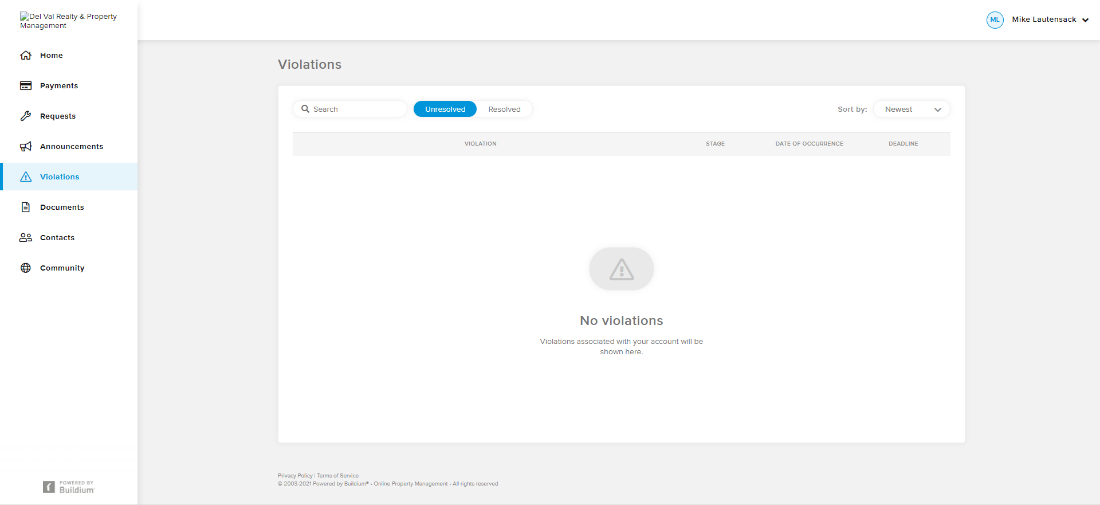 If you have any violations, you can view the details here such as the deadline date of the violation, the stage of the violation and when the violation was sited.
Documents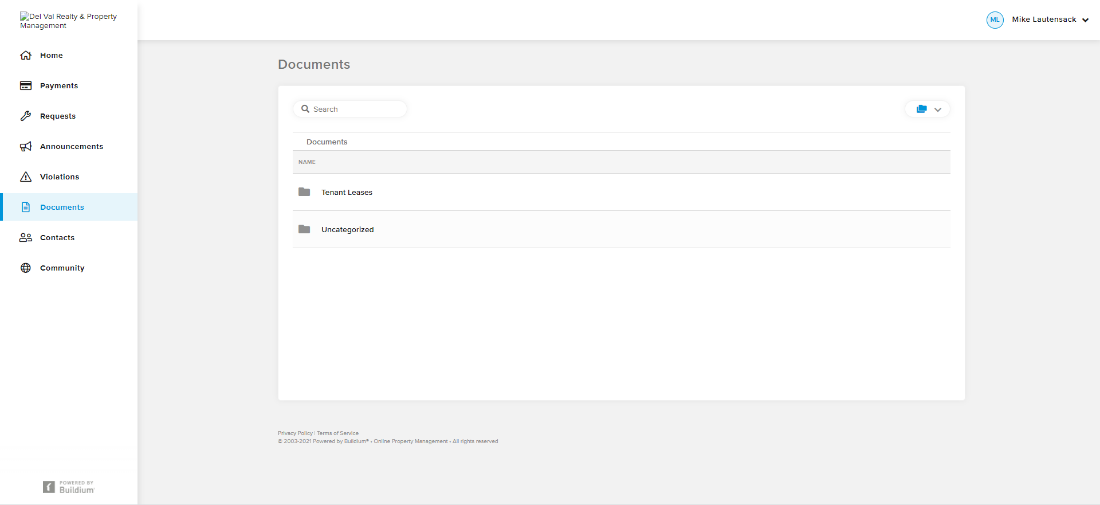 You will have access to all documents you are privy to in this section. If you do not see the document you are looking for, it may not have been uploaded yet, it may only be available to board members, or your community doesn't have it available. The documents are sorted into categories, but if you're not sure what category the document it is, you can toggle the list to show all the files available by clicking on the drop-down menu on the top right of the page.
Contacts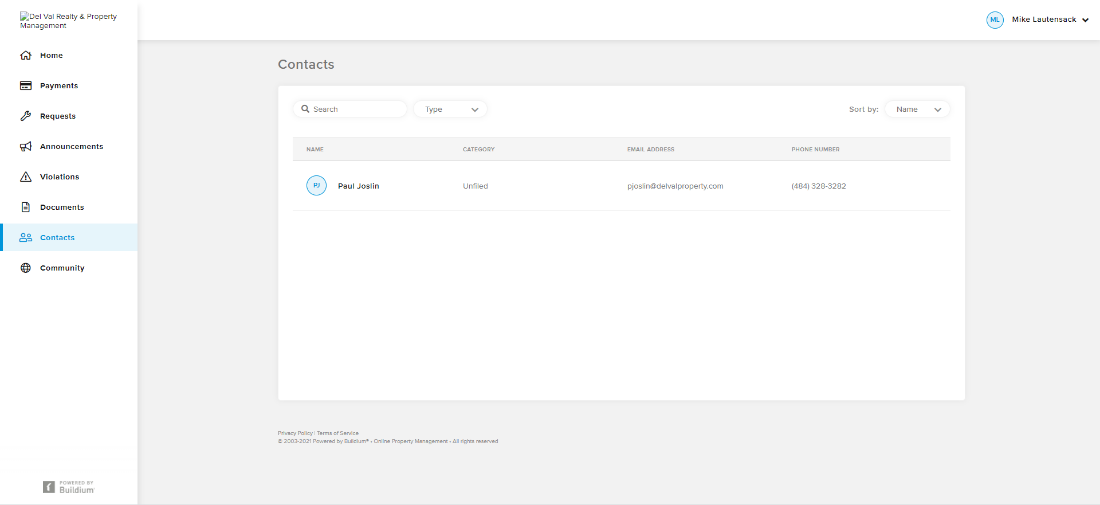 This is a list of contacts for your community, and there are 2 types. It will default to all. We are in the process of gather this information, but your main Del Val contacts and any homeowners opted to have their contact information shared will be listed here. Click on the type towards the top of the page and select residents or resources. That will filter the list.
Community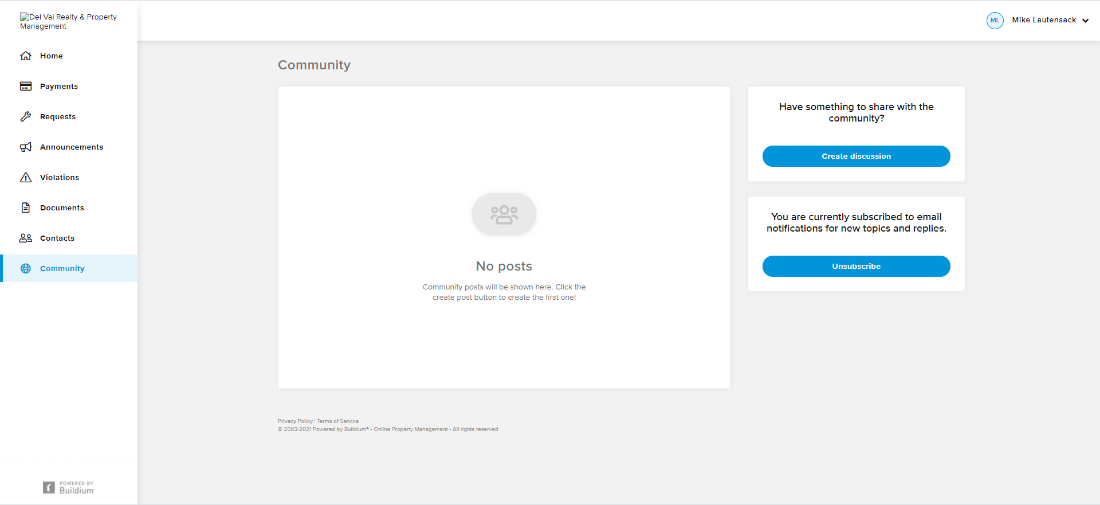 Community posts will be shown here. You can also create a post here as well as respond to posts.
So that is, in a nutshell, a quick tour of the resident poral. I hope this has been informative and helpful. If you still have any questions, as always, please feel free to call us at Del Val and we will be happy to help.